09 Jul 2015
Carer Awarded for taking care of three family members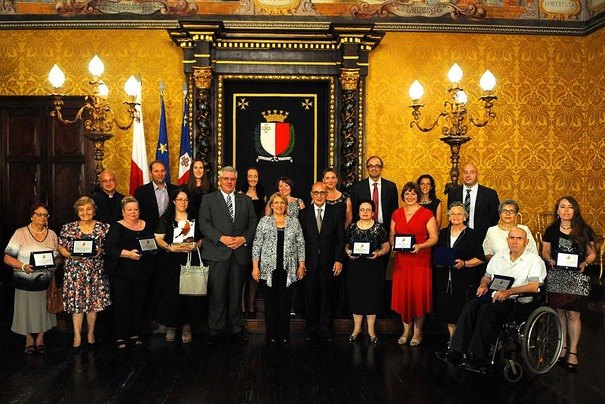 Josette Borg, a 46 year old from Mosta is the winner of the ''Informal Carer Award'' under the auspices of the President of Malta Marie-Louise Coleiro. This is the first time that informal carers have been given recognition during a ceremony organised by the Office of the President in collaboration with Caremark Malta.
Josette Borg won this award after a Selection Board chaired by Mr Edgar Preca scrutinised how this lady with great altruism and challenges cared for her sister with special needs and both of her parents.
During her speech, the President of Malta praised Josette Borg, who despite great difficulties managed on her own to take care of three members of her family.
''You are doing your utmost to ensure that those who depend on you can continue to live their life in dignity regardless the difficulties they encounter. Above all you are making it possible for them to remain living as a family in their own home. You are a living example of how members of a family can support each other in the time of need without expecting anything back''.
The President of Malta went on to remark that Josette Borg chose to dedicate her life to the service of her family even at the expense of not seeking any employment for herself. Only this way could she continue to give her care to her sister and father who have a disability as well as an aging mother. Moreover so she has two children of her own.
The President of Malta reiterated that she firmly believes that Maltese and Gozitan families still uphold these great values for which she feels extremely proud.
Marie-Louise Coleiro thanked Caremark who in collaboration with the Presidency took the initiative to create the Informal Carer Award with the intention of creating an awareness about the role of the informal carers - a concept which is being given more recognition at european and international level.
In a document published in 2010 entitled: Informal Carers: Who cares for them?, the European Centre for Social Welfare Policy and Research recommended more appreciation and assistance to informal carers in European communities.
''In a community, some sort of an informal care is necessary to compliment formal care services and fill up any void which might exist in formal care. The Presidency wishes that this award makes people aware of this realty. This way, not only the informal carers are more appreciated but the general society recognises this very important and indispensable role which is executed by these informal carers without any fanfare''.
During this ceremony, Mr Edgar Preca commented that whoever put in a nomination did it with great love without expecting any rewards.
Mr Preca who spent several years as an informal carer to his parents, appealed to the authorities to given due recognition to these carers. ''There are those who stop from work to assist a member of their family. Whenever this happens, this person is contributing to the good of society and the country''.
< Back to all News Articles